PUMA Ground Defence Seminar – 2nd March 2019 [Review]
A partcipants view by Emma Deakin (4th Degree, Chesterfield TKD Instructor)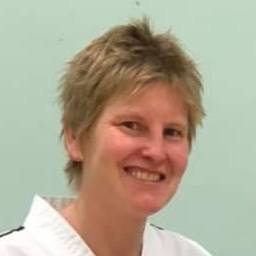 At the weekend I had the pleasure of participating in Mr David Pixton's first PUMA Ground Defence seminar in Swindon. I can honestly say that this was one of the best seminars I have taken part in.  Ground defence is a skill set that is alien to me but the course content was expertly delivered in a way that allowed me to progress and develop some of the basic concepts.
The seminar was attended by a cross section of Tae Kwon Do students, lower grades, senior dan grades, juniors and adults alike and all left with smiling faces having learnt something new. 
During the course, a clear message was conveyed; your not going to become a ground defence 'Master' (certainty not in over night), but you can develop an awareness of some of simple tools that can be used to prevent a potentially dangerous or life threatening situation becoming worse.  It was stressed that we should wherever possible get 'back to our feet' and use the TKD defence techniques that we have in our armoury.
As I said before, I have had limited experience of ground defence in the past and have always felt rather frustrated, as I found techniques hard to grasp. The way the content was delivered left me feeling as though I had achieved something and hungry to learn and practice more!  The two hours flew by!
A big THANK YOU to Mr Pixton for his knowledge, patience in delivery and time spent planning the syllabus.  Also thanks to Mr Evans and Miss Lucy Bartlett for assisting and imparting their knowledge.
I would strongly urge students to put this on their 'to do' list! I cant wait for the next instalment!
Emma Deakin (4th Degree, Chesterfield TKD Instructor https://www.chesterfieldtaekwondo.co.uk/)